Skip to end of metadata
Go to start of metadata
The ABAP agent is customized using the SAP transaction code /DVD/APPD_CUST.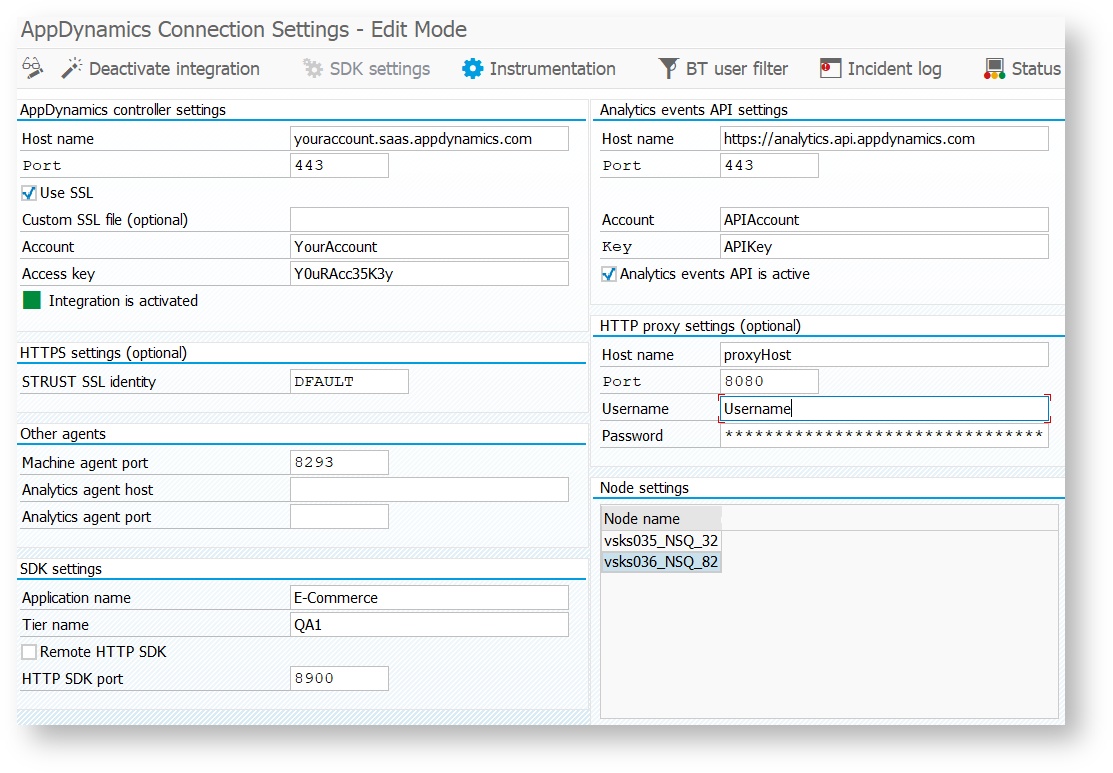 Connect to the AppDynamics Controller
To connect to your AppDynamics Controller:
Enter your AppDynamics host name and port number.


Note: Optional 'Custom SSL file' filed is relevant only when On-Premises controller is used and SSL communication with it is needed. The field is pre-populated during steps of local automatic HTTP SDK installation, but needs to be manually set during remote manual HTTP SDK installation - see Install Custom Certificate for Remote HTTP SDK.

If your HTTP connection needs a proxy, enter a proxy host name and port number, optionally user and password if your proxy requires authentication:


The HTTP proxy is used only for connections to the AppDynamics Controller and event service. Communication with the HTTP SDK is direct.

(Optional) When SSL connection to the controller (or event service) is used, the ABAP Agent is unable to directly reach the controller without an SSL identity. 

Direct connection is used in these cases: 

Check controller connection status from SAP GUI
Pass analytics event data to the Event Service 
Upload of dashboards directly to the controller

To setup the SSL connection:

Open the controller URL in a web browser and download all public certificates

Select the STRUST SSL identity where your certificate is uploaded in the SSL identity field under HTTPS settings

Configure SDK Settings
To configure the SDK settings:
On SDK settings, enter an application name.
The application name should correspond to the application on the Controller. 
Enter a tier name.
The default tier name is SAP system ID.
For local HTTP SDK execution, enter a port number that is used by the HTTP SDK instance on every application server of the SAP system.


For remote HTTP SDK execution (through SDK Manager), enter the SDK manager host name and port. 
Enter a unique HTTP SDK port for each application server under Node settings pane. See also SDK Manager


(Optional) Enable SSL for communication between ABAP Agent and SDK Manager.

SSL overhead

Carry out the following setup if you need to enable secure connection between SAP system, SDK Manager and remote HTTP SDK instances running on Linux Gateway system. This does not apply to HTTP SDK installed locally on a SAP application server.

Enabling SSL for SDK manager increases overhead for intercepted HTTP sessions that create business transaction. Leave this feature disabled when SSL security on this level is not necessary.

Check the Use SSL checkbox under SDK settings
Select the STRUST SSL identity where your certificates are uploaded in the SSL identity field

Activate or Deactivate Integration
Customize the ABAP agent and ensure that the HTTP SDK instances are running before activating AppDynamics integrations. 
You need to be in edit mode to activate or deactivate the AppDynamics module. Click Activate integration or Deactivate integration button respectively from AppDynamics Settings.