Download page Global Account Administration.
Global Account Administration
This page provides information and instructions for administering accounts through the AppDynamics Account Management Portal.
You manage AppDynamics Cloud accounts and users exclusively through the Account Management Portal.
You also manage most aspects of AppDynamics SaaS and on-premises accounts through the Account Management Portal. However, you manage Controller-specific user account functions through the respective Controller Tenant UI or on-premises Controller. See SaaS User Management or AppDynamics On-Premises Deployment User Management.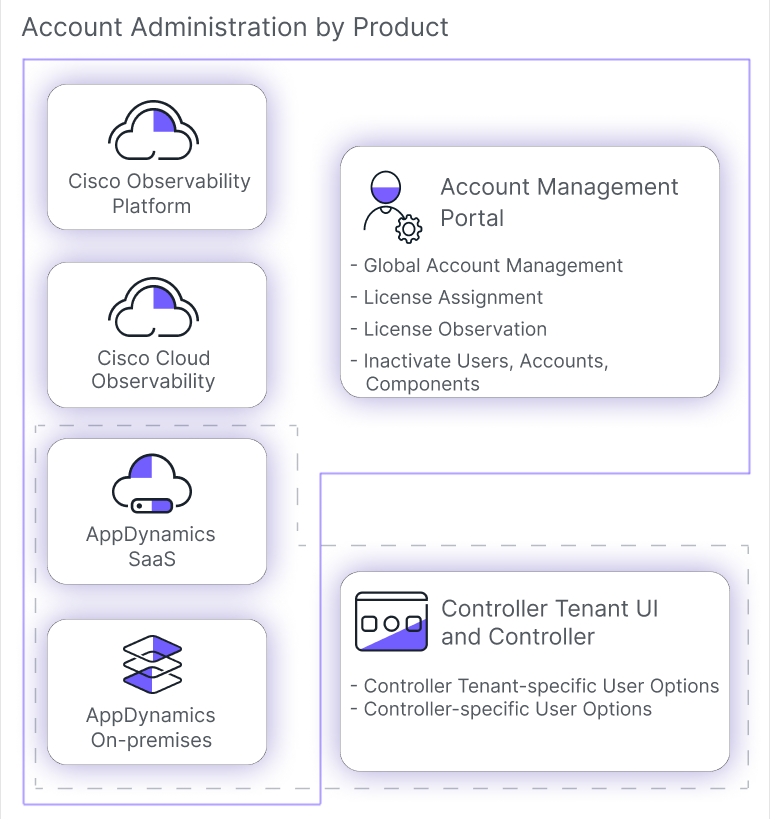 Account Management Portal Overview
The Account Management Portal provides a secure online means for account administrators to manage users and account resources for each AppDynamics platform. Non-administrators can edit their profiles, review account details, and access the AppDynamics Community and certain features of our AppDynamics University.
AppDynamics refers to a Tenant as the Controller in some code. They are considered one and the same in that context.
These functions are available according to your user type and role permissions:
Account Overview—displays account summary information, Tenant access, and feature access tools based on your user type and role permissions.
Entitlements

License Management—provides Cloud Tenant-based license and Controller Tenant-based subscription usage information for the current or specified usage cycle.

University Subscriptions—provides

your current educational benefits, including AppDynamics University subscriptions, Instructor Day(s), and exam vouchers.

Professional Services—displays a list of services to help you

plan deployments, configurations, workstreams, and other technical projects.

Support Contracts—displays a list of support entitlements

associated with

your account.

Access Management

User Management—allows user account administrative functions.
SAML Federation—provides the means to configure your basic SAML for single sign-on (SSO) capability.
Cloud Tenant Roles—provides user role assignment options.
Service Principals—provides the means to view, edit, or create service principals for secure access to Cloud and Controller Tenants.

Downloads—allows downloading AppDynamics software packages for SaaS Controller Tenants that are available for your account.
Profile—provides user profile options.
University—provides training information and learning tools.
Community—p

rovides a discussion forum, knowledge base, and user community.
Use the Accounts Management Portal to fully deactivate or edit a user account for all AppDynamics components and AppDynamics Cloud or Controller Tenants simultaneously. User account management through a Controller Tenant UI or an on-premises Controller affects permissions for that environment only.
Account Overview Page Options
Upon signing in, the Account Management Portal opens to the Account Overview page. Review the Role Permissions Matrix for your user role options.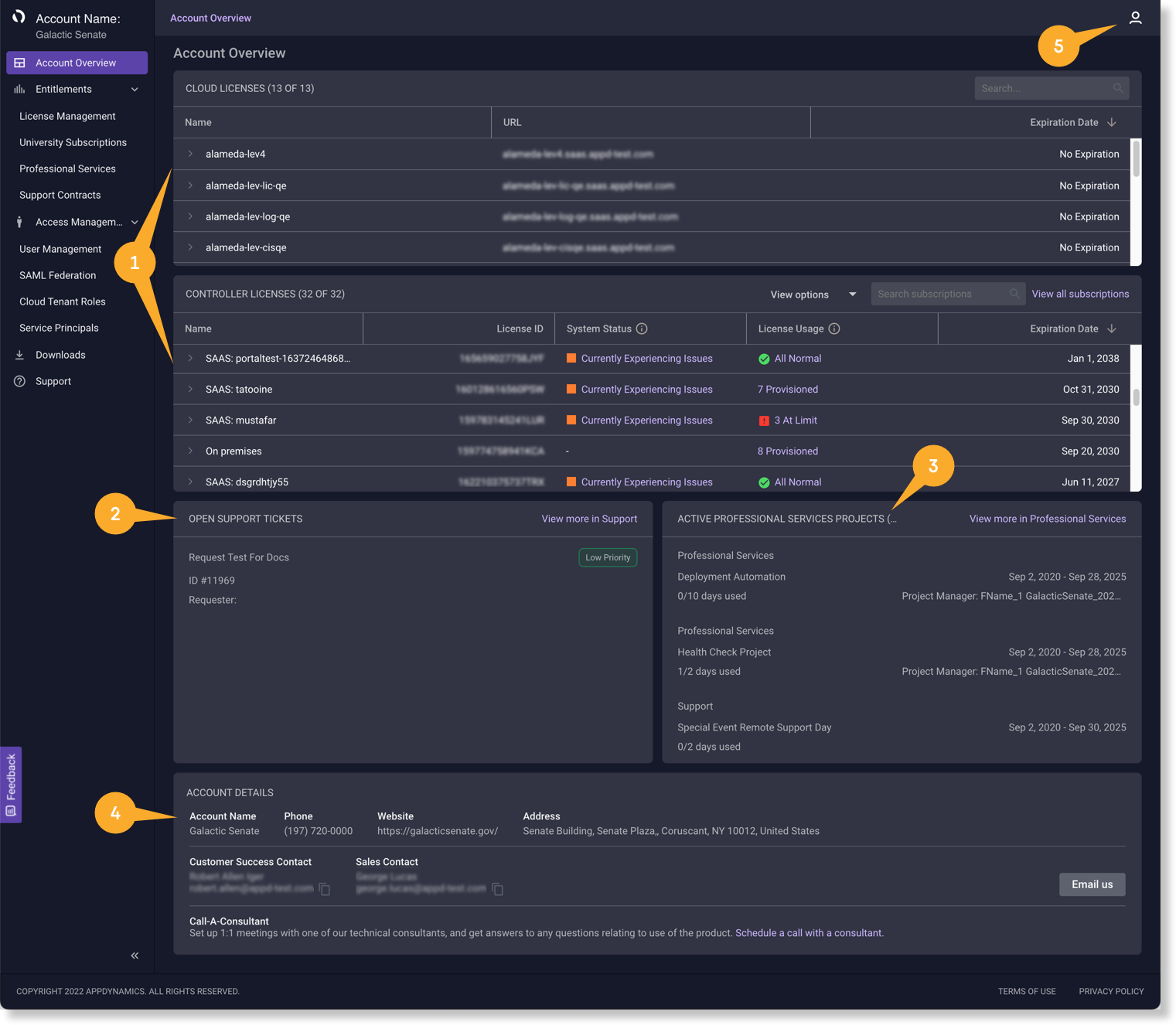 Access a Tenant

You can launch an available Cloud Tenant or Controller Tenant or view specific details in several ways

.
Users must have a license for Cloud Tenant access or have a subscription for Controller Tenant access. When you assign a license or subscription to a non-administrative user, they become a License Admin.
AppDynamics refers to a Controller Tenant license or On-premises license as a subscription.
To find a specific Cloud Tenant License, perform one of these actions:
Click Name to sort and scroll through the list of Tenants.
Use Search to filter the list.
To launch a Cloud Tenant, perform one of these actions:
ClickLaunch AppDynamics.
on the row of a select Tenant and click
Click View All.
and select a Tenant from your profile summary list, or select
To find a specific Controller Tenant subscription, perform one of these actions:
Click certain table headings to sort and include other Tenants in the summary view.
Use Search subscription to filter the list.
Click View all subscriptions to display the full list.
To launch a Controller Tenant, perform one of these actions:
Click a subscription Name or click on the row of a select Tenant and click Launch AppDynamics.
Click
and select a Tenant from your profile summary list.
Work with Support Tickets

You can review current support tickets through the Open Support Tickets

section of the Account Overview page. If you don't see a particular ticket in the summary, click View more in Support to see all tickets open in Zendesk.
To review open support ticket details:
Select a visible support ticket from the summary.
Click

My activities

to access the

Requests

page.
View your own support tickets or browse account tickets.
Search requests

or sort by

Status

to filter the view.
To open a new support request:
Click

View more in Support or navigate to > Help and Support > Support portal and select Submit a request.

If you choose to access it through the profile link, you must sign in to AppDynamics Support. Swipe down and select Support portal.

Select a Priority.
Optionally, select a Time Zone.
Select AppD Cloud as the area of AppDynamics.
Continue through the form and select relevant options.
Add files, screenshots, or other attachments that will help the support staff effectively address your issue.
Click

Submit.
A member of the AppDynamics support staff will respond to the email address used to sign in as soon as possible.
To follow support ticket activity:
Select an open ticket or click

View more in Support.
Navigate to

Organization Requests

and click

Follow

to begin receiving update notifications for open support requests.
Click

Following

to review the items you are currently following.
Select the

Status

dropdown to filter the list.
Review Active Professional Services
You can review summary project

information for up to three licensed and currently active resource projects. If you don't see a particular resource, click View more in Professional Services.
The Professional Services page provides a complete list of services associated with your AppDynamics account, including:
Service name

Number of days used/total number of days

Date the service ended

Entitlement effective dates

Project manager
Review Account Details
The Account Details

section displays:
The information you provided when your company registered with AppDynamics.
AppDynamics customer support contacts that are assigned to your account.
An online tool for scheduling a 1:1 meeting with a technical consultant.
An automated email link directed to your assigned customer success and/or sales representative.
Profile Summary and Management
Click


to display a summary profile panel for quick access to your profile manager, assigned Tenants, Support, and other resources.
Manage Your Profile
To edit your user details:
Click Manage My Profile.
Select the Personal Profile tab and click Edit.
Update your User Details accordingly.
Click Save.
To update your password:
Select the Password tab and click Edit.
Enter your current password.
Create a new password according to the listed rules.
Click Save.
To customize your notifications:
Select the Notifications tab.
Select the Notify me when a new version of AppDynamics is released checkbox to receive emails of updates, hotfixes, and new releases.
Select the checkbox in the License Notifications column heading to receive emails whenever a license detail changes for all associated licenses.

Alternatively, you may select individual license names to reduce notifications.

The primary contact must receive license notifications. Click Email Us in Account Details to contact your AppDynamics support representative to change the primary contact.

Select the checkbox in the Maintenance Notifications column to receive emails when planned maintenance or outages occur.
Alternatively, you may select individual license names to reduce notifications.
Click Save.
Once finished with your edits, click

and select Account Management Portal to return to the Account Overview page.
Access Assigned Tenants
You have assigned access to any Tenant link that displays in your profile summary. Click a Tenant name to launch that Tenant.