Skip to end of metadata
Go to start of metadata
On this page:

Related pages:

You can customize several performance collectors to monitor customer-specific objects. This section describes how to adjust settings for these collectors.

To navigate to Collector settings, go to t-code /DVD/APPD_DI_CON and click the Collector settings toolbar button.
Setting Up Thresholds for Long-Running Jobs
Datavard Insights monitors running background jobs and reports that are running longer than expected. By default, all jobs running longer than 10 minutes are reported, but this value can also be changed for a specific background job names.

With these settings active, the background job, ZFI_ANALYSIS_JOB, is reported as 'long-running' if the runtime exceeds 20 minutes. All jobs starting with ZMM are reported, if the running takes longer than 5 minutes.
The last rule with lowest priority and pattern * matches all other jobs and specifies the default threshold for 10 minutes.
Set Up Custom Values from Job Variant Fields
Datavard Insights can add populate placeholder fields with values from background job report variant fields. This is possible for long-running or failed background jobs.
Example settings

With these settings, long running or failed background jobs with names that start with 'Z' will have the placeholder fields populated from non-empty variant elements like this:
value of variant element S_DATE will be stored in detail as Custom value (long) 1 (CUSLVAL1)
value of variant element S_TIME will be stored in detail as Custom value (long) 2 (CUSLVAL2)
value of variant element P_COUNT will be stored in detail as Custom value 1 (CUSVAL1)
Example variant
value of S_DATE is a range from 14th October 2019 to 25th October 2019
value of S_TIME is a range from 12:00:00 to 16:00:00 and less than 02:00:00
value of P_COUNT is 5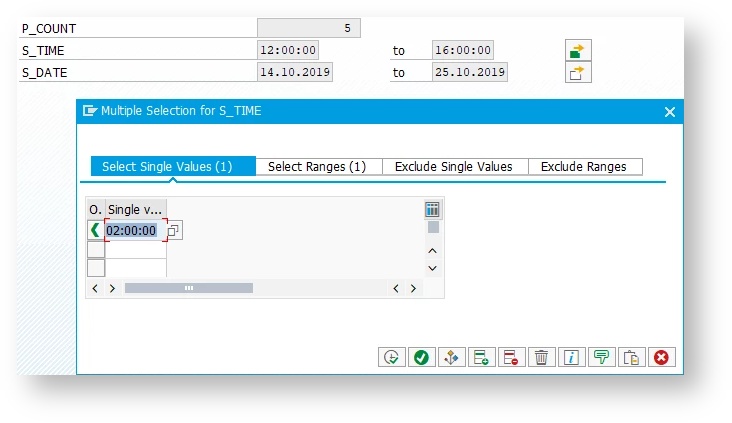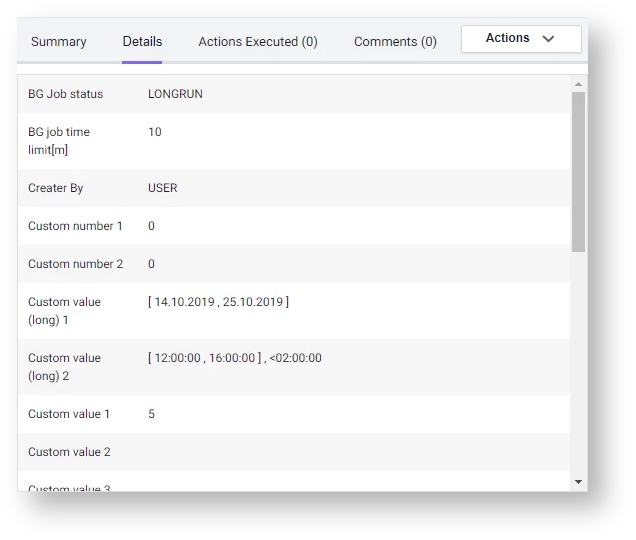 Processing of custom values can be adjusted further by implementing the following Business Add In (BAdI):
Enhancement spot name: /DVD/MON_EH_BADI_BG_JOB_DETAIL
BAdI interface: /DVD/MON_IC_BADI_COL_BG_JOBS
BAdI interface method: FILL_CUSTOM_FIELDS

Importing:

IT_VARIANT_VAL - Table of variant field values for given background job
IV_JOB_NAME - Background job name
JOBCOUNT - Backround job ID

Changing

CT_DETAIL - Table of problematic background job details (contain custom placeholder fields)
Monitoring of RFC Destinations
Datavard Insights can be customized for monitoring availability and ping time of selected RFC destinations. Add RFC destinations which are required to be monitored into the list and select the type of the test (For example, connection, ping, authorization).