Download page Configure Health Rules to Monitor Servers.
Configure Health Rules to Monitor Servers
You can configure Server Visibility to alert you when certain conditions are met or exceeded based on monitored server hardware metrics. If you are new to AppDynamics, the Getting Started Wizard can help you through the process. Alternatively, you can create alerting policies manually if you are already familiar with the process.
You configure Health Rules, Actions, Policies, and Email Digests for monitoring servers similar to how you would configure these for monitored applications, with some minor changes.
Health Rules
Default health rules based on several usage metrics are enabled for Server Visibility. You can modify these and set up your own health rules. Select Alert & Respond > Health Rules to view a list of the rules on the Controller.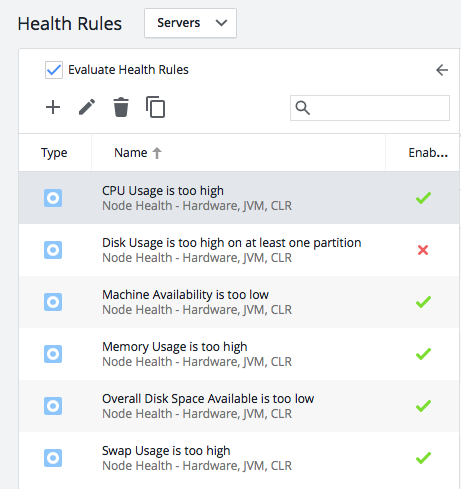 From the Affects tab of the Health Rule wizard, you can choose to apply the Server Health Rule to:

Subgroups (

All or selected

subgroups)
Machines

All machines in the active account
Machines within selected subgroups
Selected machines
Machines whose names match certain criteria
The health rule is violated when specified critical or warning conditions are met.
Hierarchies, Groups, and Subgroups
You can apply health rules to subgroups or machines within selected subgroups. Subgroups available on the Affects tab of the Health Rules wizard are machines that are grouped into hierarchies based on the
Machine Hierarchy Property
configuration for the Machine Agent. S
ee
Machine Agent Hierarchy
.
The
subgroups
are the leaf group a machine is in. For example, there are three machines:
A is in group Data Center 1|Rack 1
B is in group Data Center 1|Rack 2
C is in group Data Center 1|Rack 1
A and C are in the same
subgroup
, B is in a different one.
Policies
Server Policy Actions are triggered when any or select Health Rule Violation Events occur. Unlike Application Policies, Server Policies cannot be based on custom events.
Actions
Actions are performed when a health rule is violated and a policy is triggered. Actions can be email or SMS message notifications, HTTP requests, or custom actions that have been uploaded to the Controller. You can also use email and HTTP request templates for alert and respond actions.
Email Digests
Email Digests enables you to send notification of chosen health rule violation events to specific email addresses at a specified frequency, such as every 2 hours.