Download page Understand the Observe UI.
Understand the Observe UI
When AppDynamics Cloud is set up, the Observe page displays the overview of your full stack and features the following components:
Domains in the UI—the components in your stack.
Shortcuts—predefined settings for displaying your entities.
Filters—options for refining your view.
Health—color-coded health status.
Feedback
—link to provide helpful comments and opinions.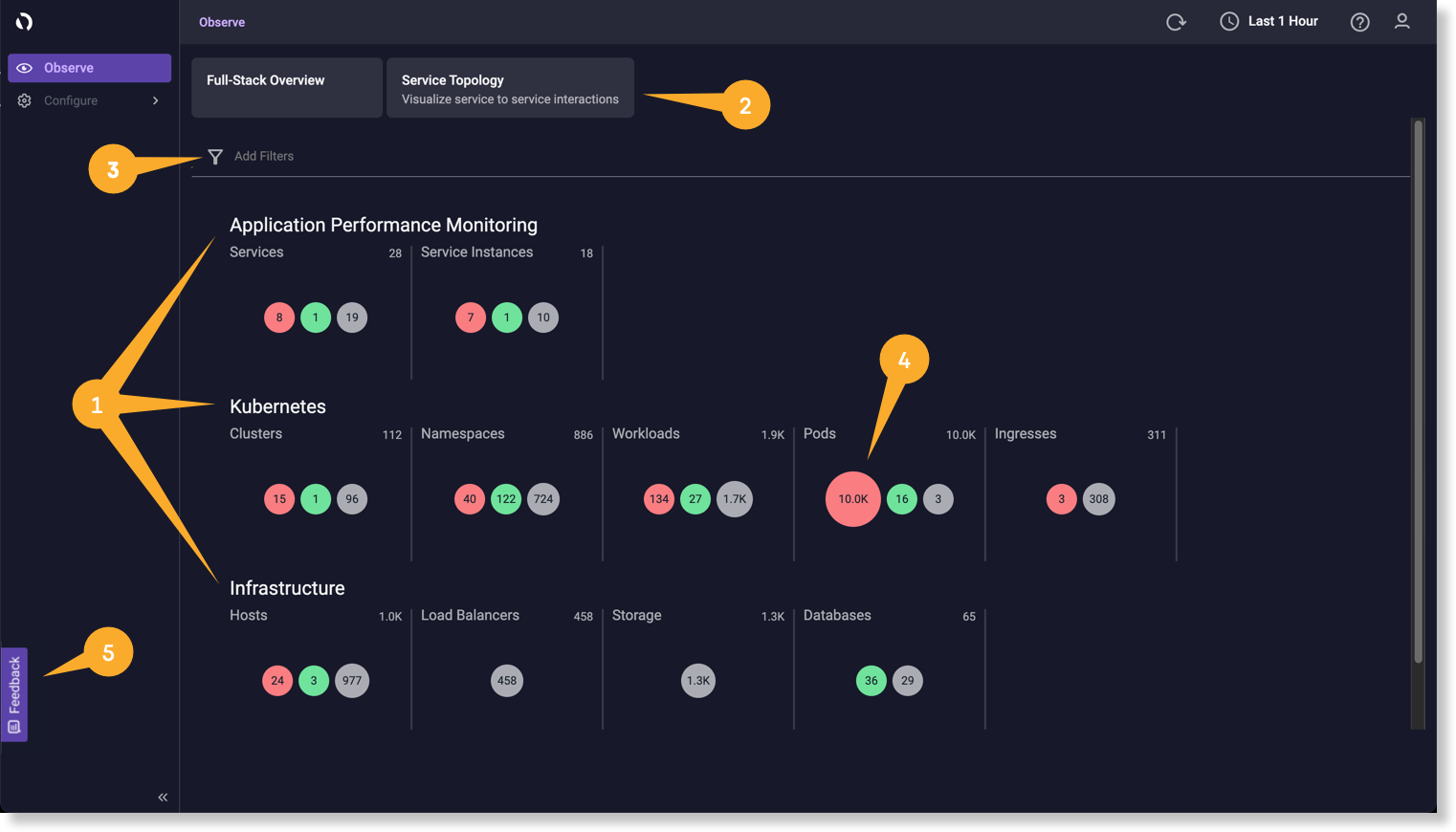 If you have not set up AppDynamics Cloud, begin installation and configuration with Get Started with AppDynamics Cloud and Observe UI Overview.
Observe UI Elements

AppDynamics Cloud incorporates several UI functions.
Nav Tool
Icon
Description
Navigation path
–

A hyperlinked navigation map that indicates the path you took to get where you are in the application. As you navigate AppDynamics Cloud, each click is appended to the navigation path. To return to a previously viewed page, click the corresponding link in the navigation path or click the back arrow in your browser.

In a multiple-entity view, the path is appended until you click an entity. When you switch to a single-entity detail view, the navigation path is replaced with a link to the entity in focus. The navigation path continues to build again until you select a multiple-entity view by, for example, clicking Services.

Reloads data to display the most current view for a selected time range.




Enables you to select a different time range to apply to your displayed data. If no data displays, edit the time range selection. Select from Standard time ranges or create a Custom time range to broaden or narrow down the data displayed. Standard time ranges are predefined options that span time ranges from minutes to months. Custom enables you to set parameters for a different time range.

Select a Standard time range:

Click to access the time range selector.
Select the Standard tab if not already selected.
Click the time range for which you would like to search and display your data.

Data that matches the time range you selected displays.

Create a Custom time range:

Click to access the time range selector.
Select the Custom tab if not already selected.
Choose the parameters for your custom time range. You can type in the date and time or select
to customize the date.
Click Apply to narrow down the list of entities to match your selected time range. Custom time ranges cannot be saved.

Data that matches the time range you selected displays.

Displays these Help Center options:

View Help Documentation
Cloud Connections > Get Started button
Kubernetes Full Stack Observability > Get Started button

Displays the following in a dropdown:

Manage My Profile
Account Management Portal
Controller Tenants
Observability Cloud Tenants
Help & Support
University
Sign out

To manage your profile, see Profile Summary and Management.
These links are displayed to the left of Observe.
Nav Tool
Icon
Description
AppDynamics

Returns to the Observe page.

Observe

Displays the Observe page.

Configure

Displays these configuration options:

Health Rules & Alerts

Health Rules
Anomaly Detection
HTTP Request Actions

Data Sources

Cloud Connections
Kubernetes and APM
Next Steps
Learn more about AppDynamics Cloud: