Download page Get Started with AppDynamics Cloud.
Get Started with AppDynamics Cloud
This documentation assumes you have met with your AppDynamics Account Representative to:
Determine your Tenant data storage requirement.
Set up a unique Tenant ID.
Establish an account vanity URL.
Set up your Single Sign-on (SSO) credentials.
Gain System Access
AppDynamics creates a Cloud environment for you to access the platform. When the environment is ready, you will receive an email with instructions on how to get started.
Click the link provided in the AppDynamics welcome email.

Use your existing password or create a secure password. Your email and password are your credentials throughout your AppDynamics experience.

Click Activate my account to access the Account Management Portal.
Upon login, the Account Management Portal opens to the Account Overview page. To review high-level security role options, see Manage User Accounts.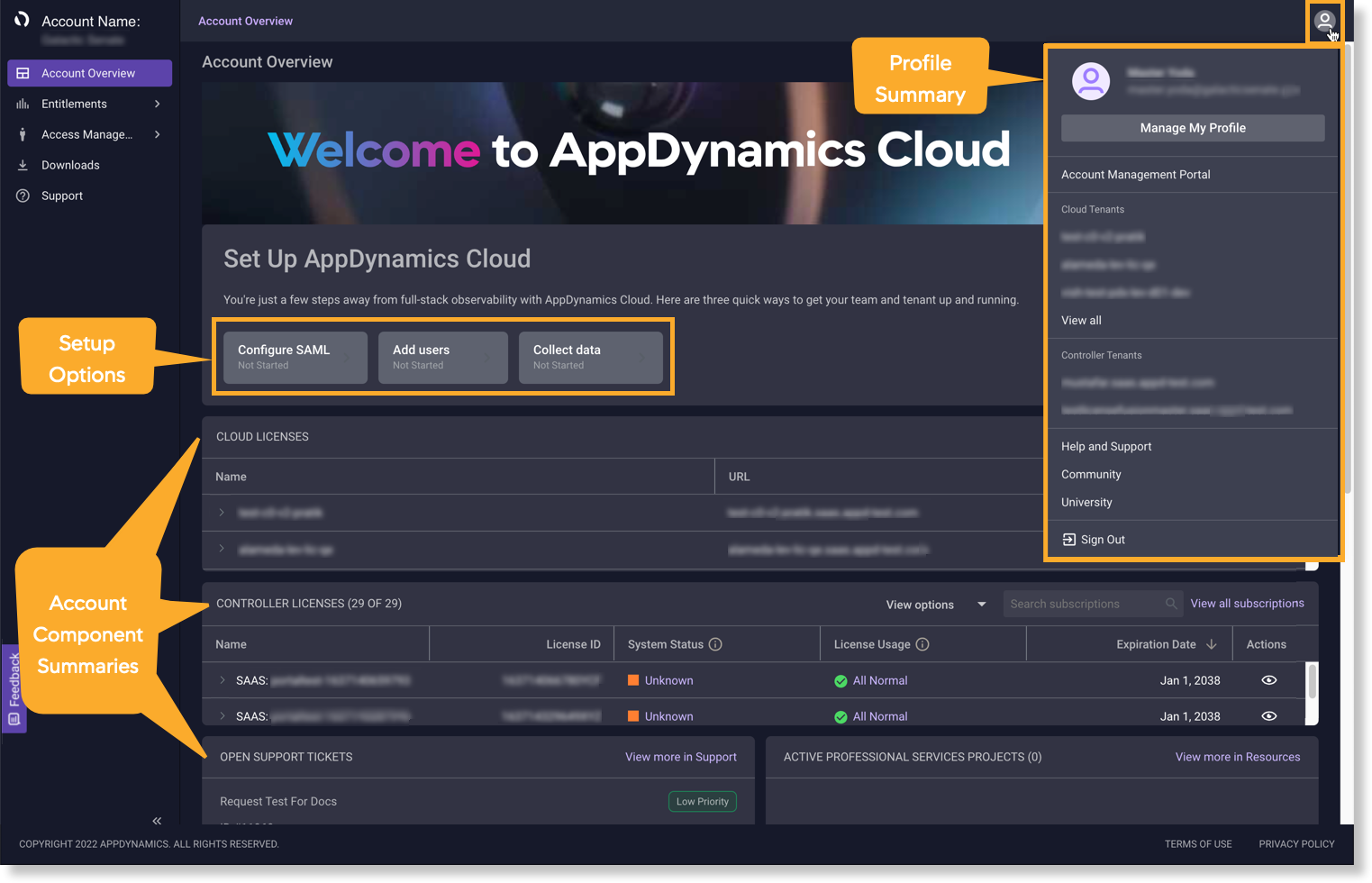 Cloud Setup Options
The following sections outline the initial setup of your AppDynamics Cloud environment.
You can decide how you want to authenticate users, what type of users you want to add, and how you want to configure your Cloud Tenants. Each option will indicate it is complete once you finish the particular setup process.
You must have the company admin role to perform these functions.
Tenant Setup
Setting up Security Assertion Markup Language (SAML) for your Cloud Tenant users is optional, but we recommend it.
Company admins can set up custom SSO or use the default AppDynamics Identity Provider (IdP).

AppDynamics allows you time to decide if you want to allow our IdP to authenticate users or configure external SAML for your own IdP.
Set up new users and give them AppDynamics Cloud access.
Configure Observability Layers
Now you are ready to configure the layers that comprise the AppDynamics Cloud platform, including Cloud Infrastructure, Kubernetes Infrastructure, and Application Performance Monitoring. See Configuration Overview.