Download page Manage Educational Subscriptions.
Manage Educational Subscriptions
This page provides guidance for managing your AppDynamics University subscriptions and how to access the AppDynamics Community forum.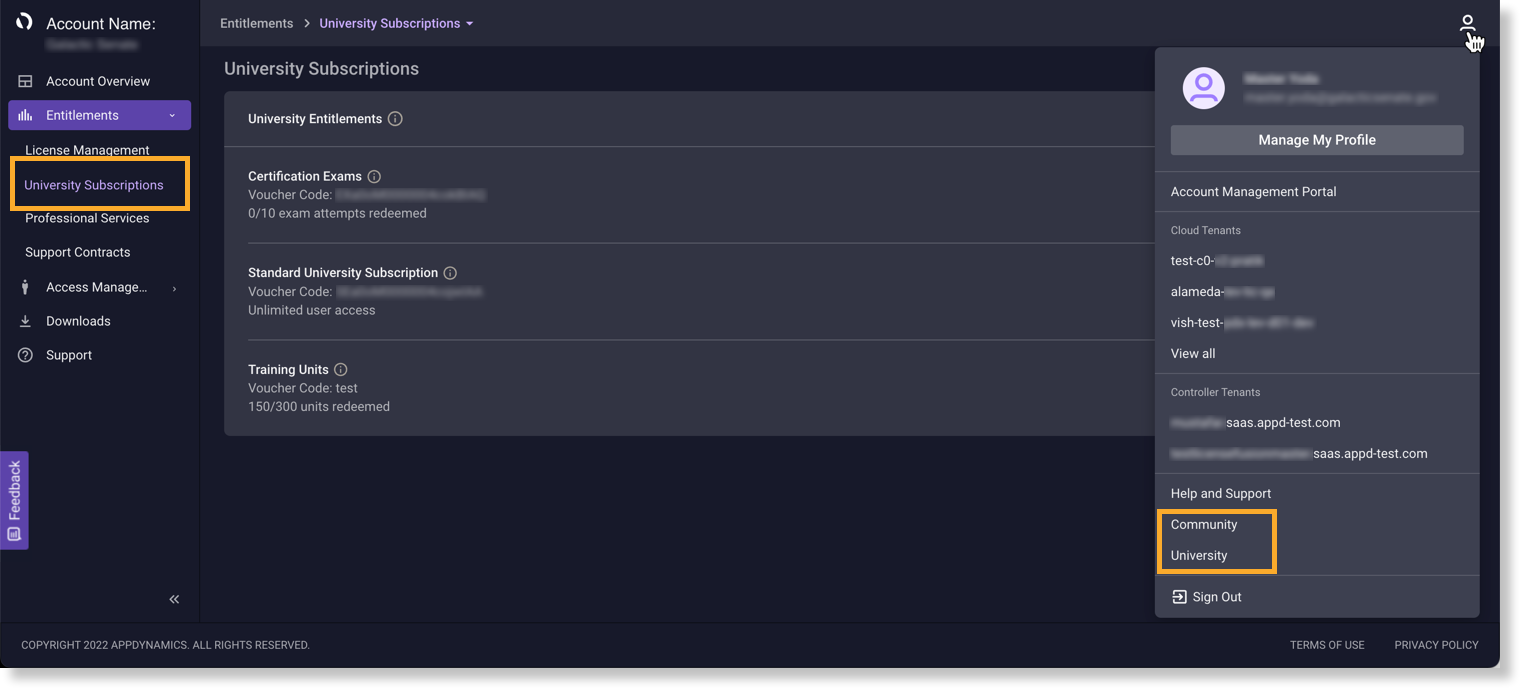 University Subscriptions
You can view your current educational benefits, including AppDynamics University subscriptions, Instructor Day(s), and exam vouchers. You can also assign users to Premium University subscription(s) if available. See AppDynamics University Registration and Subscriptions.
The Company Administrator or License Administrator must have access to the account that holds University subscriptions in order to view the vouchers associated with that account.
You may have to provide subscription details when you register for a course or class. These subscription details are available for your education benefits:
Standard, premium, enterprise, 12-user education, and exam voucher code(s)
Number of seats purchased and consumed
Number of exam attempts purchased and consumed
Number of training units purchased and consumed
Number of Instructor Days purchased and consumed
Validity dates
Expired vouchers and expired training units
To assign users to a University subscription:
Click user seats activated.
Click Assign Users.

Enter a valid email address.


If the user email is not recognized, click Go to User Management to add the email address.
Click Assign additional users as necessary (up to the number of user seats available).
Click Save.
To add or edit a

voucher code or alias

:

You can create an alias (friendly name) for your voucher code that relates to the course to make it easier to remember.
Click

Edit

.

Add the voucher code provided by AppDynamics or enter an alias.

Click Submit.
For additional support:
Click Actions.
Click Visit University for learning options.
Click Contact University Team to enter a message.


An AppDynamics University Team member will contact you.

Click Learn about subscriptions for subscription options.
AppDynamics Community
You can use the AppDynamics Community to engage in user discussion forums, access our knowledge base, and post questions to others in the user community.
Click Actions.
Click Visit Community to view or browse the latest AppDynamics solutions and user discussions.
Click Access Knowledge Base to browse the latest How-To articles.
You can also access the AppDynamics Community by clicking

.
Sign in using your AppDynamics credentials.

Review the New Solutions to current issues.
Review the Latest Posts among users concerning current technologies.
Review previously raised Unanswered Topics.
Click Start a Discussion to ask questions of community users and experts.
Select Knowledge Base to search for answers to known issues.
Click a Top Contributor's name to send them a message and view their profile.